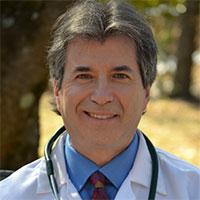 The ink was barely dry on the 2018 American Heart Association (AHA) and American College of Cardiology (ACC) cholesterol management guidelines1 when new evidence from the REDUCE-IT trial supported a possible role for icosapent ethyl in reducing cardiovascular risk in patients with persistent hypertriglyceridaemia despite the use of statins.2 As a result, the ACC has produced further guidance on the management of patients with persistent hypertriglyceridemia,3 as Dr Michael Miller, Professor of Cardiovascular Medicine at the University of Maryland, Baltimore, USA, and co-author of the publication explains.
In the 2018 AHA/ACC guidelines,1 little attention was paid to triglycerides (TG), largely due to the limited data suggesting that lowering TG in patients with hypertriglyceridaemia would translate into reduced cardiovascular risk. When the REDUCE-IT study was presented and published soon after the 2018 guidelines,2 the ACC decided that over the next few years it would add to these guidelines with a focus more on the dilemma of residual cardiovascular risk and elevated triglycerides.3
There are several lifestyle and other conditions associated with hypertriglyceridaemia. People who are overweight – particularly if there is abdominal or visceral obesity – often have raised TG. Medical conditions including diabetes, especially when glycaemic control is poor, chronic kidney disease (CKD), and uncontrolled or poorly controlled hypothyroidism, are also associated with hypertriglyceridaemia. In addition, inflammatory diseases such as the arthritides are linked to raised TGs and, finally, medications. Indeed, beta blockers, steroids, oestrogenic agents and bile acid resins are all medications which should be assessed in a patient presenting with elevated TG levels that we are trying to control.
What the 2018 guidelines said
The 2018 guidelines recognised the increasing risk of ASCVD with elevated TG and advised that in patients with a TG level of 175-499 mg/dL (2.0-5.6 mmol/L), the focus should be on lifestyle and, if necessary, dose intensification of statin therapy. Clinicians were recommended to evaluate secondary causes such as those mentioned above. For patients with persistently elevated TG of at least 500 mg/dL (≥5.7 mmol/L), the guidelines recommended a very low-fat diet, avoidance of refined carbohydrates and alcohol, consumption of omega-3 fatty acids and, if necessary, fibrate therapy.
What the 2021 consensus decision pathway said
The 2021 guidance recommended that secondary causes should continue to be excluded for patients with ASCVD and fasting TG ≥150 mg/dL (≥1.7 mmol/L) or non-fasting TG ≥175 mg/dL (2.0 mmol/L) and TG < 500 mg/dL (<5.6 mmol/L). Lifestyle, diet, glycaemic control, and statin therapy should again be optimised.
What is different about the new guidance is that patients whose TG levels remain elevated after these interventions should be stratified and managed according to their LDL-cholesterol level:
For patients with LDL-C ≥ 100 mg/dL (2.6 mmol/L), an LDL-C risk-based approach is recommended to optimise statin therapy and adherence and consider LDL-C-guided non-statin therapy in line with the 2018 guidelines
For patients with LDL-C of 70-99 mg/dL (1.8-2.6 mmol/L) there is a combined TG/LDL-C risk-based approach, based on patient preference. Options are for an LDL-C risk-based approach as above or a TG risk-based approach including consideration of medication known to reduce CV risk in patients with elevated TG, eg. icosapent ethyl
For patients with LDL-C < 70 mg/dL (1.8 mmol/L), a TG risk-based approach is recommended with consideration given to treatment with icosapent ethyl
In summary, we know that lifestyle management is critically important for controlling TG levels and has a greater impact than a similar approach to LDL-C control. Weight reduction can reduce elevated TG levels by at least 30-50%. With the new LDL-C-based stratification, we have options to further reduce CV risk in patients with ASCVD by focusing either on LDL-C or TG management depending on LDL-C levels and patient preference.
References
Grundy SM, Stone NJ, Bailey AL et al. 2018 HA/ACC/AACVPR/AAPA/ABC/ACPM/ADA/AGS/APhA/ASPC/NLA/PCNA Guideline on the Management of Blood Cholesterol: a Report of the American College of Cardiology/American Heart Association Task Force on Clinical Practice Guidelines. J Am Coll Cardiol 2019:73:e285–e350.